An act of worship at home
3rd Sunday of Advent
Reading John 1:6-8, 19-28
There was a man sent from God, whose name was John. He came as a witness to testify to the light, so that all might believe through him. He himself was not the light, but he came to testify to the light.
This is the testimony given by John when the Jews sent priests and Levites from Jerusalem to ask him, 'Who are you?' He confessed and did not deny it, but confessed, 'I am not the Messiah.' And they asked him, 'What then? Are you Elijah?' He said, 'I am not.' 'Are you the prophet?' He answered, 'No.' Then they said to him, 'Who are you? Let us have an answer for those who sent us. What do you say about yourself?' He said,
'I am the voice of one crying out in the wilderness,
"Make straight the way of the Lord" ',
as the prophet Isaiah said.
Now they had been sent from the Pharisees. They asked him, 'Why then are you baptizing if you are neither the Messiah, nor Elijah, nor the prophet?' John answered them, 'I baptize with water. Among you stands one whom you do not know, the one who is coming after me; I am not worthy to untie the thong of his sandal.' This took place in Bethany across the Jordan where John was baptizing.
Reflection
John the Baptist's words are so worrying that the religious leaders come to him and demand to know: "Who do you think you are?" And John's answer is even more disturbing to them. "I'm not the Messiah." he says, "I'm just the warm up act!" "Wait 'til you see the real thing."
John is telling them that if they are worried about all he's doing then when Jesus, the Messiah, finally arrives –
he will put John and what he's done in the shade – in comparison John says he's not even important enough
to untie the Messiah's sandals. John the Baptist is shaking things up. But he is not the Christ, nor Elijah, nor the prophet Isaiah. He is a voice announcing that God is near, calling us to wake up and prepare ourselves for the one who will truly set us free.
My wife Eddy's sister, Carol, is the world's most amazing wrapper of presents. There is absolutely no danger that any present ever wrapped by Carol will accidentally come unwrapped in the post. I'm not sure what brand of sticky tape Carol uses but not only is it sticky, it is incredibly strong – which is good when the parcel is in the post but when it gets to its destination unscathed and intact (as it always does) there comes the challenge of opening it, layer by layer.
Fingers and teeth are quickly replaced with knives and scissors of ever increasing size and sharpness. We haven't yet got to the point of actually using bolt cutters or an angle grinder but we've come close and I would not be at all surprised if the day is coming, and maybe quite soon!
I may have slightly over played it but I'm sure you get the message. The setting free of the gift is not easy, even when we really really want to. But then again, strangely in life we don't always want to set things free, sometimes we don't even want to allow ourselves to be set free.
John the Baptist is a witness to God's coming into the jail cell that we call "our life," for the priests and Levites it was a jail cell formed by self-deceiving thoughts that their lives were privileged, comfortable, safe..
The religious leaders that came out to confront John the Baptist wanted nothing to upset the stability, the familiarity of their lives. They had invested a lot of themselves in their traditions, much more in fact than God would ever have wanted. Which is why John was so threatening. If John were from God, then it was clear from what he was saying that things were going to change, and the religious leaders didn't want anything to change; they wanted things to stay exactly as they were.
But such changelessness is not what God is about.
What would Christmas be like if we never opened the presents we were given? Even if it's a struggle, as it always is with Carol's, wouldn't we miss the point of the gift if we never managed to open the package?
Christmas is a time for opening boxes, of cutting the sellotape, pulling off the wrapping paper and with great excitement taking out the contents so that they can be used, whether they are socks or ties from our family,
or LIFE in all its fullness from GOD.
This advent let's open ourselves up to the presence and activity of God in our lives and not be afraid to open ourselves in trust and faith to be set free to live the life we have been created to live.
And may the glory be God's.
Amen.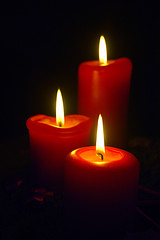 Prayer
Let's come to God in prayer.
Some of us are weary or downhearted.
Still we say: let our hearts be glad, God is always here.
Let us approach God with confidence, because God has always been with us.
Let our hearts be glad!
Jesus, son of God and son of Mary, you came among us, baptizing with fire and light, calling us to the true vocation of humanity: to reflect the glory of our creator.
We thank you for your work among us, how you gathered, how you spoke, how you ate and drank, how you left us your Spirit to lift us up and hold us in the light.
We praise you, because you came to us, and keep coming to us, because of your great love.


We pray today for all who are downtrodden, all who are oppressed, all who know the heavy hand of marginalisation on them. God, we turn to you, praying that you will lift up the lowly, you will raise the voice of justice, and you will scatter oppression. May all who are oppressed be set free.
We ask this, in joy and gratitude.
In your name we pray.

We pray that we might find rhythms of life that sustain us here.
Rhythms for cultivating and renewing the earth; human community; jus-tice; and creativity.
We ask this, in joy and gratitude.
In your name we pray.
Amen.
Hymn
O Thou who camest from above
The pure, celestial fire to impart,
Kindle a flame of sacred love
    On the mean altar of my heart.
There let it for Thy glory burn,
With inextinguishable blaze;
And, trembling, to its source return
    In humble prayer and fervent praise.

Jesus, confirm my heart's desire
To work and speak and think for Thee;
Still let me guard the holy fire,
    And still stir up Thy gift in me;

Ready for all Thy perfect will,
My acts of faith and love repeat,
Till death Thine endless mercies seal,
And make the sacrifice complete.
Blessing
Go in peace; love and care for one another in the name of Christ;
– and may God the Father bless you richly,
– may Christ the Son pour the riches of his grace upon you,
– and may the Holy Spirit, our comfort and our support, lead you in the
path of hope, and of peace, of joy and of love. both now and forevermore. Amen.